We thank following volunteers for their contribution of multiple choice questions
Anand Lila Devi Dasi
(USA and Mayapur, India)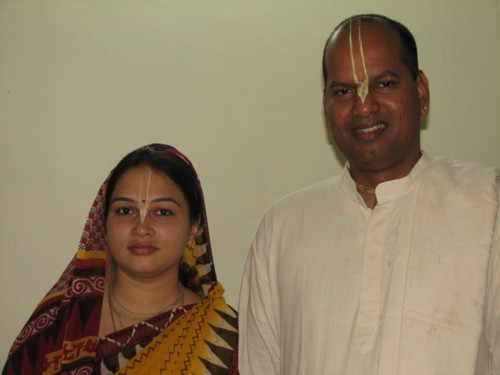 Ananda Lila Devi Dasi and her husband, Vraja Vilasa Das initiated disciples of HH Radhanath Swami Maharaj, live in Sri Dham Mayapur. After spending many years in USA, where her husband worked as a consultant on Google Products for American railroads, he left his prosperous job in the USA to serve in Mayapur as the new Temple is progressing quickly, ISKCON's flagship temple—The Temple of the Vedic Planetarium. Ananda Lila Devi Dasi being a home maker always desired herself to be engaged in devotional activities. Seeking for such kind of service, she thought of contributing to the veidc quiz as that would avail an opportunity for both her and the readers in understanding the vedic literatures, hence the name; Vedic Quiz. "While preparing these questions, it made me study Srila Prabhupada's books regularly and attentively thereby helping me to understand the philosophy", she says. "For those of us who are personally deprived of devotee association because of geographical boundaries, this kind of self assessment is vaulable and strenghtening in devotional life. Attempting to answer the quiz in a fun and interacting way would ensure one in assimilating the gist of the subject matter, further she adds. She feels very happy to be a part in facilitating this kind of service which revives readers charm in an inspiring way to study the books of our Founder Acarya A. C. Bhaktivedanta Swami Srila Prabhupada.
Vrajachandrika Devi Dasi
(Bangalore, India)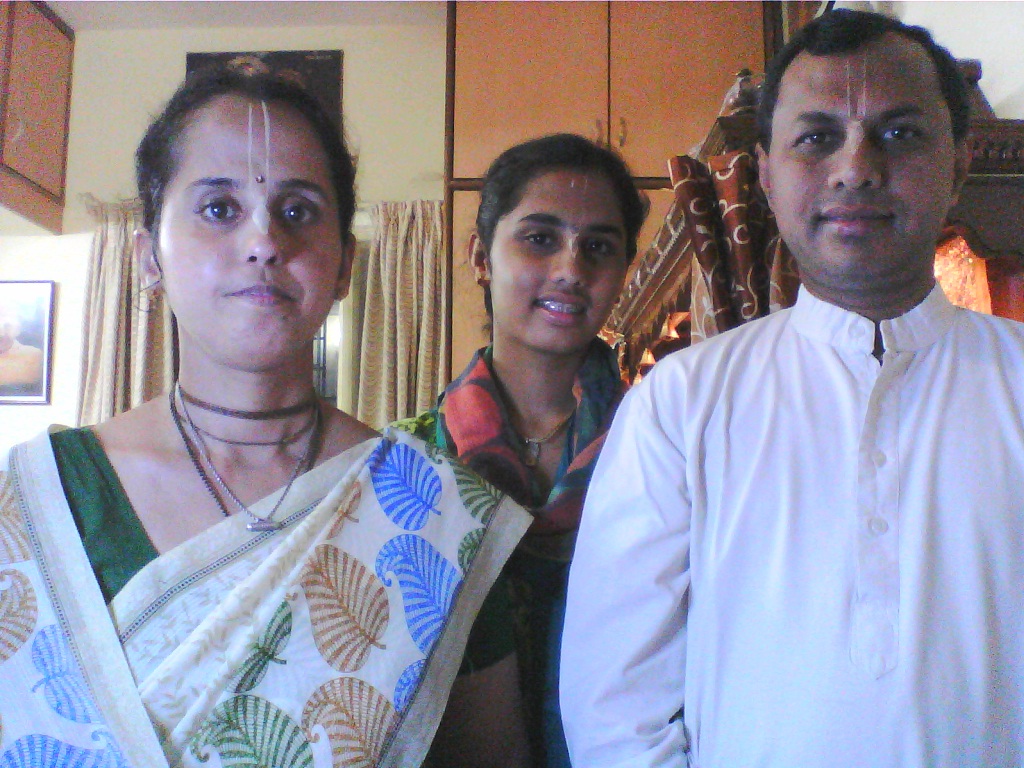 I, Vraja Candrika devi dasi live in Bangalore with my husband – Sri Gopinath Prana Das – working for a private firm and daughter Anusha – studying in 11th std. We have been initiated by HH Radhanath Swami Maharaj. I worked as a software engineer for 9 years and later quit my job to spend time as a home maker. I was fortunate to get the service of making questions for our Vedic Scriptures. This has helped me to read them regularly, thereby connected to Krishna and feel of dedication and commitment to Srila Prabhupad's ISKCON. There are no strict rules for doing the service in terms of time frame, language expertise etc. Just an hour or less of regular contribution can result in great wonders. These kind of small services gives one immense joy – for serving the mission and thereby serving the Lord.
Namsankirtan Das & Gaur Bhavini Devi Dasi
(Singapore)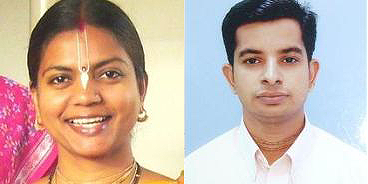 I, Gaur Bhavini Devi Dasi live in Singapore. My husband, H.G. Naam Sankirtan Das is working for a small IT company as Finance Manager. Both of us are initiated by HH Radhanath Swami Maharaj. Many years back when HG Vaishanva Seva Prabhu visited Singapore, he asked both of us to prepare the MCQ from Bhagavad Gita. Initially both of us were little sceptical. We had no experience of preparing MCQs and never thought that we can do something like this. After some thoughtful discussion we decided that we shall proceed with this service. It was in an immense benefit to our spiritual life. Diving everyday into the wonderful purports of Srila Prabhupada was like personally interacting with him. We felt so near to him. It helped us to go in much deep in verse. We realised how much efforts Prabhupada has made to give these purports. We pray that this small service help you in your Krishna Bhakti. We are very much thankful to authorities who gave us this service and we beg forgiveness for whatever shortcomings are there in our service.
Bhagavati Kripa Devi Dasi
(Mumbai, India)
It was all by the arrangement of lord Krishna that we met Srila Prabupada disciples when we were in Sandiego in1997 . We used to visit Iskcon San Diego just like we used to attend other temples. But there we met H.G.Badri narayan Prabhuji & H.G.Dravida Prabhuji with whom we wanted to associate & hear more & more. We used to hear H.G.Dravida Prabhuji's Bhagavad Gita class daily & H.G. Badri Narayan Prabhuji would give us Sandesh & burfi prasadham after mangal arati.This changed our heart .
When we came back to India for good in 2000 by the Lord's arrangement we had Iskcon Miraroad devotees association specifically H.G.Vanamali Prabhuji & H.G.Kamal Lochan Prabhuji .Then we started serving here by conducting children classes under their guidance. The children are taught how to recite slokas from Srimad Bhagavad Gita , Srimad Bhagavatham, sing bhajans written by Vaisnava acaryas, carnatic music bhajans, pastimes of Lord from Mahabharat , Ramayan, Srimad Bhagavatham,. Pastimes of saints. By mercy of Sri caitanya Mahaprabhu we got initiated in Sridham Mayapur in 2004 by H.H.Gopal Krishna Goswami Maharaj .Till today we have been able to continue by Srila Prabhupada's mercy . On the instruction of Gurumaharaj now we have more than 15 branches of NICE (Narasimha's institution for children education) in and around Miraroad.. Samhita on the instruction of H.G.Kamalochan Prabhuji conducts classes for small children. We take family counseling for the parents of these children.
Krishnan Iyer – B.E.(Electronics), MS(Systems & Software), – Professional in TCS
Bhavani Iyer – B.Sc (Electronics) – Website designer & developer